Glucose syrup production process is from raw material that is starch to get glucose syrup products, it is a complete by a set of glucose syrup production equipments. Glucose syrup production process are as follows: raw material starch→mixing starch with water to get starch slurry→liquefaction process→deproteinization process→saccharification process→decolorization process→decarburization process→ion exchange process to eliminate ion impurities→evaporation process to get certain concentration glucose liquid→final products filling and packing.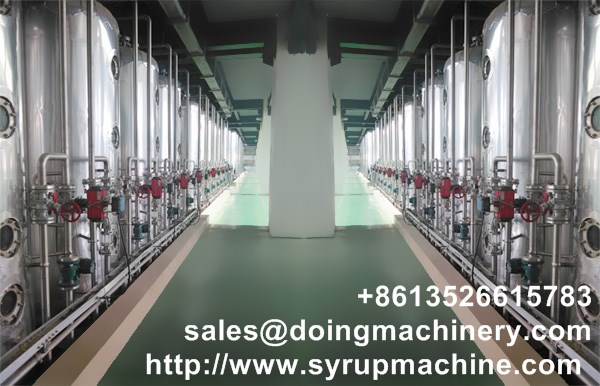 According to our dry milling technology, glucose syrup processing can use two kind raw material (corn / broken rice) to produce the high quality glucose syrup directly . The customer can choose the more cheaper raw material at different time to production of glucose syrup from starch and get more profit from the corn glucose syrup processing plant.More information about our corn glucose syrup processing equipment, please contact us freely . We welcome you to visit our company.
The technology process of production of glucose in plants as below:
Extracting syrup from corns, enzymatic hydrolysis, chemical synthesis, separation and purification.
We can supply different sizes of corn glucose manufacturing plant meet your capacity requests.

The double-enzyme method of glucose syrup production process is first mix corn powder with water making slurry (like produce liquid glucose from starch), jet cooking slurry for liquefaction (liquefaction enzyme), separate protein and other solid impurity , saccharification (saccharification enzyme), decolorization , Ion exchange and evaporation to get required density high quality clear corn glucose syrup.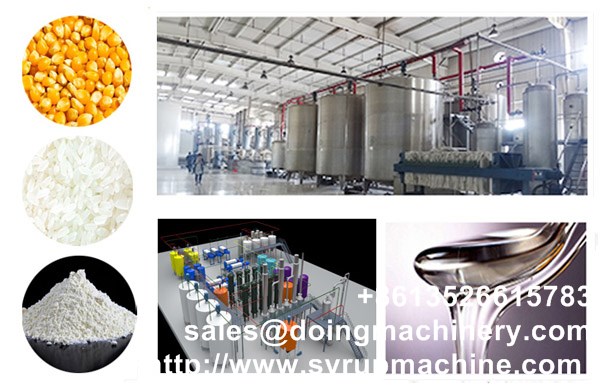 We all know the raw materials for making syrup is starch, so any crops containing starch can be used to produce syrup. Such as corn, rice, cassava, potato, etc. Doing company focus on developing new technology of glucose syrup production, we introduce the advanced technology that using raw grains corn to produce glucose directly. That is our corn glucose syrup manufacturing plant.





We are initiative of using raw grains corn for glucose syrup production process and deeper conversion of syrup and sorbitol technology. We own 15 National Invention Patents, with corn syrup manufacturing plant customers all over the world. Like Russia, India, Algeria, South Africa, Nigeria, Syria, etc.

Inquiry: http://services.doinggroup.com.cn/kf.php?mod=client&cid=doingequipment&wid=23
Click here to give you the best price

Welcome to make an inquiry of our machine by following contacts:
Contact: Ms Elina
Email: sales@doingmachinery.com
Tel: 0086 371 5677 1822
Whatsapp/Phone:0086 135 2661 5783

View more related:
syrup machine
http://www.starchprojectsolution.com