Facoty for concrete pipe machine used to all kinds of pipe, the length from 1m to 5m, diameter from 200mm to 3000mm. Mainly use two technolegy process---sunspension roller and centrifugal spun .
rcc concretre pipe machine -----suspension roller pipe machine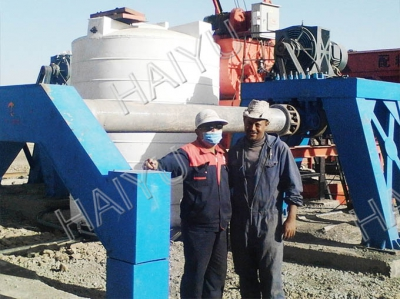 1.Overview of Suspension Roller type Concrete Pipe Machine
Suspension roller type concrete pipe making machine is a kind of perfect machine and equipment to produce reinforced concrete pipes and Pre-stressed concrete pipe. This machine is capable to make pipes with diameter from 300-2000mm and with length from2-4meters. We can design many kinds of the pipe joint, including flush joint, socket & spigot joint And all the concrete pipes are widely used in administrative drainage, agricultural field irrigation, road culvert and deep water well.
2. Working Principle of Suspension Roller type Concrete Pipe Machine
This machine uses the Roller to support the concrete pipe mould, and produce the roller force to concrete in the mould. When the roller rotate at a high speed, the concrete in the mould will spread in the inner wall of the pipe mould and form a cement pipe with the centrifugal force, and when the mould with the inner concrete pass on the roller, the concrete between the mould and the roller will be compacted solid to form a pipe.
3. Character of Suspension Roller type Concrete Pipe Machine
3.1 Short production Cycle: because of the good effect of the roller to compact the concrete, every pipe just need 3-5 minutes with high speed roller rotation.
3.2 This pipe machine uses the dry cast material, there will no waste cement mud, then it won't pollute the environment.
3.3 During the production, the noise is low, it is about 80-90 DB.
3.4 The concrete pipes are with high pressure load and with high production efficiency.
4.Technical Parameter of Suspension Roller type Concrete Pipe Machine
| | | | | |
| --- | --- | --- | --- | --- |
| | XG 200-600 | XG 800-1200 | XG 1000-1500 | XG 4M |
| Diameter | 200-600mm | 800-1200mm | 1000-1500mm | 300-2000mm |
| Length | 2000mm | 2000mm | 2000mm | 1000-4000mm |
| Power of Motor | 15KW | 45KW | 90KW | 110KW |
| Capacity | 10-15Pc/h | 8-12Pc/h | 6-10Pc/h | 6-8Pc/h |
| Labor demand without feeding machine | 4-5 | 4-5 | 4-5 | 4-5 |
| Labor demand with feeding machine | 3-4 | 3-4 | 3-4 | 3-4 |
| Joint | Plain,socket and spigot,male and female | Plain,socket and spigot,male and female | Plain,socket and spigot,male and female | Plain,socket and spigot,male and female |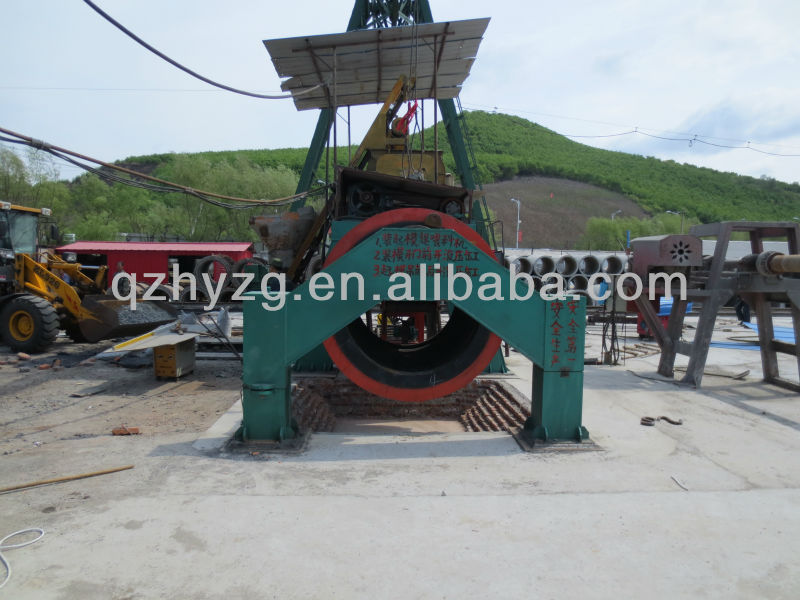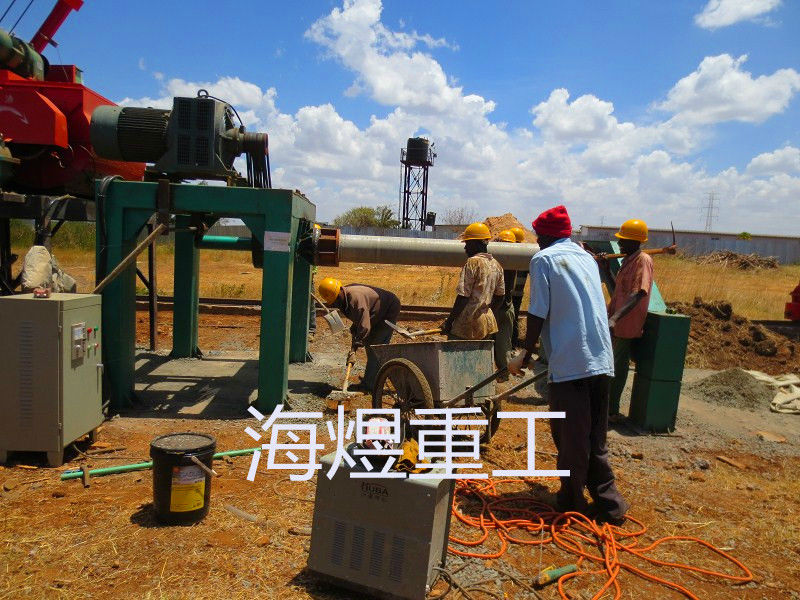 cvoncrete pipe machine --spun spinning pipe machine
1.overview of spun spinning concrete pipe machine
PSC Spun Pipe Machine are used to manufacture various specifications of circular RCC & PSC pipe and other centrifugal concrete products, adopting continuously variable electric machinery transmission, moving steadily, shifting speed with a wide range and manufacturing products with excellent quality. The units can be divided into two types: Frame-style structure and steel plate welding box-style structure.
RCC pipes made by cement concrete moulded around the frame made by steel bars can cater to the needs where pressures is upto 3.0Kg/cm2 .P.S.C pipes cater to pressure range higher than 3kg/cm2. The strength of a P.S.C pipe is achieved by helically binding high tensile steel wire under tension around a concrete core there by putting the core into compression.
With the treatment of quenching, the riding wheel has a better rigidity and wear-resistance. The base is the box-style structure, rigid and durable. Its upper and lower surfaces is processed with planing, thus ensuring the precision. Between bearing block and base the displacement is restrained with card slot adding screw bolt, thus improving the stability in operation. The card slot design also guarantees the interchangeability of the bearing block when replacement occurs. The machine's gravity center is low, the transmission efficiency high, bearing capacity big and the axial is easy to adjust and control as well as easy assembly and disassembly.
Centrifuge speed control cabinet is a perfect combination of international advanced variable frequency vector control technology and economical and reliable Y series three phase alternating current motor, marked by advanced technology, complete protection, easy operation and energy-saving low.
3.
Technical Index of PSC & RCC Spun Pipe Machine/Hume Pipe Machine
concrete pipe forming mould
v
1.Introduction of Concrete Culvert Pipe Mold
Concrete pipe mold
fall into two types according to the way of connection of the shaped drain pipes: rigid joint and flexible joint; pipe mold fall into three types according to the joint shape of shaped drain pipes: plain top, tongue and groove, bell and spigot; pipe mold fall into Ⅰ,Ⅱ,Ⅲ grades according the grade difference of external pressure load of shaped drain pipes.
2.
2. Features of Concrete Pipe Mould
2.1 The adoption of integrated design is reinforced design of leakproof slurry, no rough edges on which the mouth of pipe joints, easy mold-opening.
2.2 The friction rings in the molds are all made of 45 cast steel.
2.3 The steel plate we use is produced by Laigang which is one of the four major steel mills, and its abrasion resistance will be guaranteed.
2.4 The carbon-dioxide arc welding is applied into the all welding. The plasma cutting machine is used for cutting. Welding seam is smooth and nice, and the cutting seam is very exquisite. All above ensure the mold tough and durable and extend the service life greatly.
3. Technical Indexs of Concrete Pipe Mould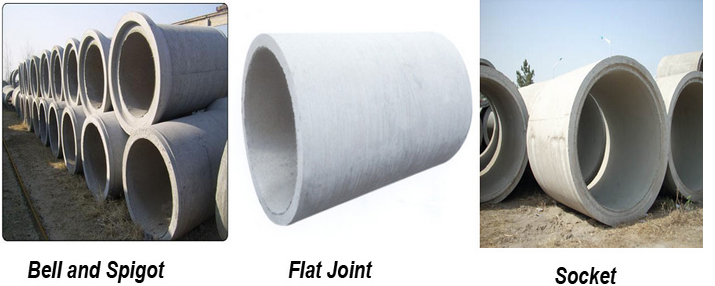 Automatic steel cage welding machine for concrete pipe production line
1.overview for concrete pipe steel cage welding machine
Haiyu Concrete Pipe Steel Cage Welding Machine consist of 4 parts of driven systems including Master plate of Rotation, Plate of push reinforcing steel , expansion diameter part, and welding machine. The 4 parts are driven by independent motor. Full variable frequency control ensures that the span of the latitude steel and the angle of the spigot won't not change along with the welding speed. Adjustment the ratio of motor speed can change the span of latitude steel, and angel of spigot. This machine can weld different diameter cages via adjustment of location and position of the master plate and welder.
2.Feature for concrete pipe steel cage welding machine
1.With small tolerance and good forming quality, automatic steel bar Wind-up mechanism can adjust the space between steel bars in operation.
2.Automatic welding, accurate solder joint and labor intensity reduction.
3.Frequency converter controlled high precision Cage-drawing system.
4.Automatic cage holding design can prevent the cage from bending accident, which is caused by its weight in the middle of welding.
5.Automatic loading mechanism can speed up the loading rate and increase productivity.
6.The mold consists of molding ring and conduit, which can adjust cage diameter and main steel bar quantity fast.
7.Forward and reverse roll type straightening mechanism with characteristics of long service life and good straightening effect.
8.Controlling system consists of Panasonic PLC, Panasonic touch screen,ABB frequency converter.
Related equipment for concrete pipe/pole production line
our service for concrete pipe machine
1.Complete production line supporting machines and all necessary accessories with high performance and good quality;
2. Free Service of plant structure design and layout plan drawings and other necessary construction drawings and guidance of construction work,office, warehouse etc and related drawings according to customers' requirements.
3.Installation and commissioning of all production machines as well as the workers training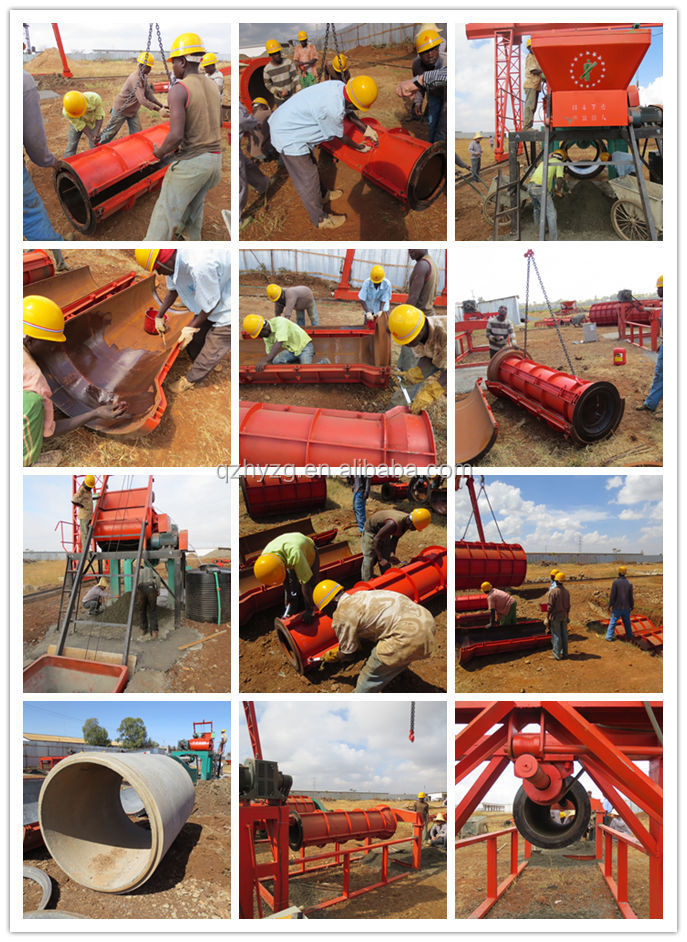 our customer for concrete pipe machine/concrete pole machine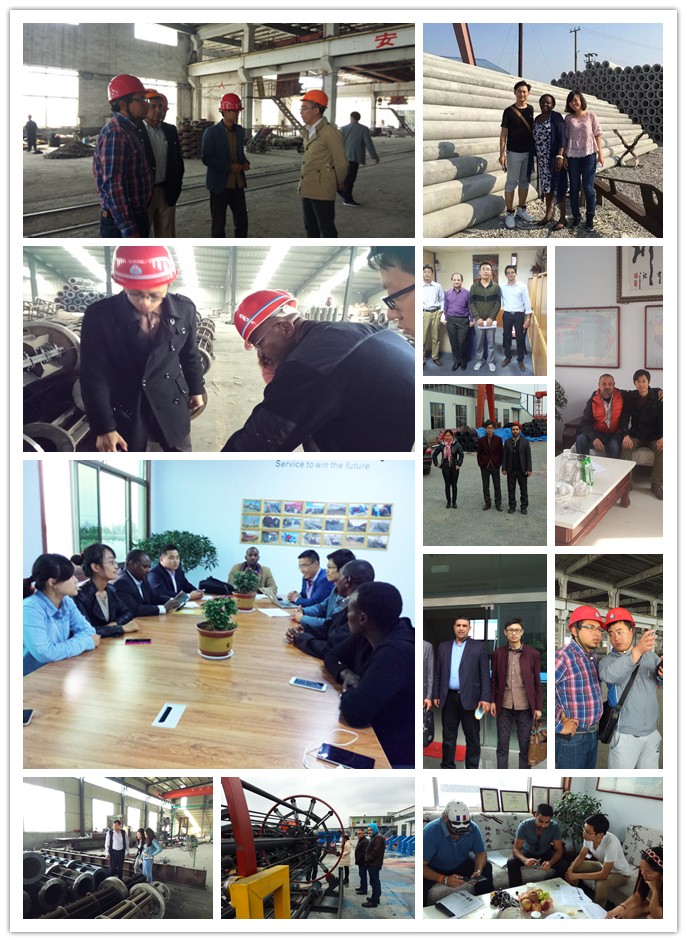 Our company introduction
Shandong Haiyu Industry Co.Ltd is a Chinese supplier and manufacturer producing concrete pole machines and concrete pile machines and concrete pipe machine .Our company provides complete set of production line equipment of drainage pipe/culvert pipe/electrical pole. And can be customized according to the standards of the world .Our products have passed certification of International Quality System.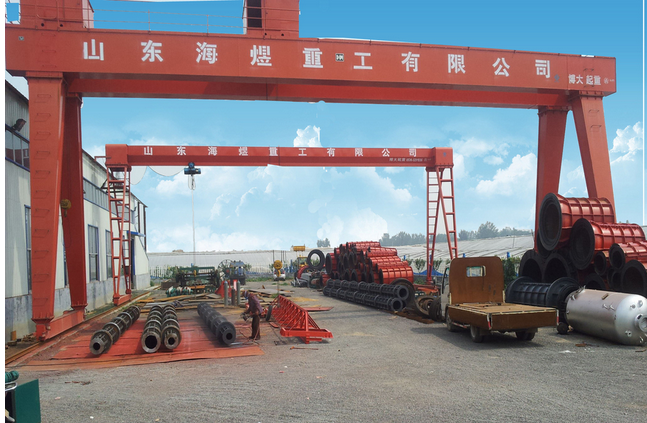 FAQ
1. Specifications of Concrete Pipes :Length,Diameter and joint ways
2.Type of concrete pipe joint : spigot and bell ,Tongue and groove,plain joint .
3. Daily or Annual Productivity .