OEM No:

1000008900022




Application: VW Touareg/ Porsche Cayenne/AudiQ7.
More info:
1. Price term: FOB, C&F, CIF
2. Port: Shanghai, China
3. Minimum Order Quantity: 50-100
4. Place of Origin: China
5. Quality: ISO9001, GOST
6. Brand Name: TP, Customers' brands, Neutral
7. Payment Terms: T/T, D/P, L/C, WESTUNION
8. Packaging Detail:
i. Plastic bags + box/carton + pallet
ii. According to your requirements
9. Delivery time: 45 days
More pictures:


More items for other applications
Item Number
Reference number
Application
HB106FF
211431-X
FORD
HB206FF
210527X
CHEVROLET, GMC, INTERNATIONAL
HB26
211750-1X
TOYOTA
HB88107A
211187-X
CHEVROLET, DODGE, FORD, GMC, INTERNATIONAL, ISUZU, OLDSMOBILE
HB88107B
210088-1X
DODGE
HB88107E
210370-1X
CHEVROLET, GMC, ISUZU
HB88508-A
HB88108FD
FORD
HB88108D
HB88508
211098-1X
DODGE, FORD, INTERBATIONAL
HB88509A
210084-2X
FORD
HB88509C
210207-1X
CHEVROLET, GMC
HB88510
210121-1X
DODGE, INTERNATIONAL
HB88512AHD
210661-1X
CHEVROLET, DODGE, FORD, GMC, INTERNATIONAL
HB88512ASHD
210875-1X
CHEVROLET, GMC
8C11 4826 AA - 1510905
FORD TRANSIT
42535254 42554404 42561251
IVECO- DAILY CITY 2000
95VB 4826 AA - 7239265
99VB 4826 AB - 4060617
YCIW 4826 BC - 4104708
FORD TRANSIT
More information will be provided. Feel free to contact us
TRANS-POWER
1) Who are we?
Trans-Power is a bearing manufacturer and supplier specialized in bearings designing, producing, exporting and importing since its establishment in 1999. Now it has become one of the leading corporations in this field, and already set up a 3000m2 distribution warehouse and a 1000m2 office in Shanghai.

TP has been certified with ISO 9001 & GOST etc, and products have been exported to more than 50 countries with good reputation.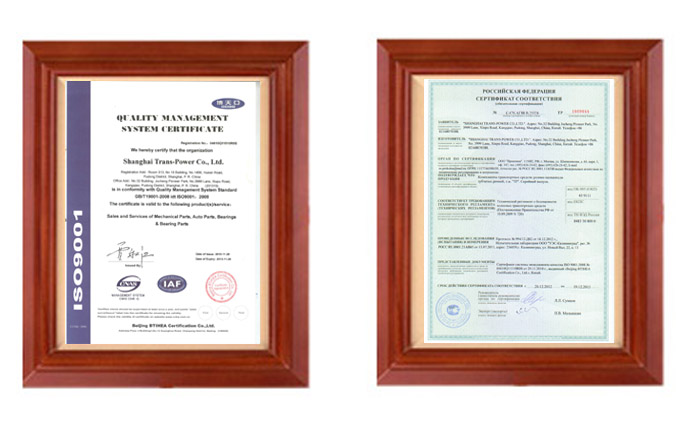 2) What do we focus on?
Our brand "TP" focus on Drive Shaft Center Supports, Hub Units & Wheel Bearings, Clutch Release Bearings & Hydraulic Clutches, Pulley & Tensioners etc. for American, European, Japanese and Korean vehicles. Customised products can be also supplied as per your samples or drawings, both OEM and aftermarket.
3) What's our advantage and why you choose us?
- Cost reduction across a wide range of products
- No risk, production parts are based on drawing or sample approval
- Bearing design and solution for your special application
- Non-standard or Customized products for you only
- Professional and highly motivated staffs

4) Our goal
With many years' experiences in the bearing field, now TP has a professional team on Production, R & D, Cost–control, Logistics, insisting our principle of being together with our customers and offering reliable quality, competitive price, prompt delivery and superior service to our customers.
Dear customers, together with us!
You will get more than you expect…